"
Today, the world lost an amazing man in
Nelson Mandela
. While he is gone, his message of love, tolerance, and understanding will live on in the millions of people that he inspired. We are blessed to have lived in his time and felt his impact."
I wanted to start this post by quoting
what
Dr. Mehmet Oz posted on his facebook page, because I agree with what he said. We lost a wonderful and remarkable man. A man who fought against racism and discrimination, a man who struggled for freedom. He had a dream and didn't stop until he reached it.
Nelson Mandela was one of the most admired activist of the 20th century. "The most dynamic leader in South Africa today" were the words of journalist Brian Widlake who interviewed Nelson Mandela for the first time at the leader's hideout in 1961 . Bellow is the first televised interview.
He was arrested and sentenced to life in prison after the famous Rivonia trial. At the trial, instead of testifying, he chose to give a speech. This is a piece of it:
"I have fought against white domination, and I have fought against black domination," he said. "I have cherished the ideal of a democratic and free society in which all persons live together in harmony and with equal opportunities. It is an ideal which I hope to live for and to achieve. But if needs be, it is an ideal for which I am prepared to die."
They took him to the Robben Island prison, where he spent 18 years of the 27.
"There was a lot of physical abuse, and many of my colleagues went through that humiliation," he said.
After 27 years in detention, he was released. This video shows his relase along with the rest of the activists.
Nelson Mandela Congressional Gold Medal Speech
Nelson Mandela Throughout The Years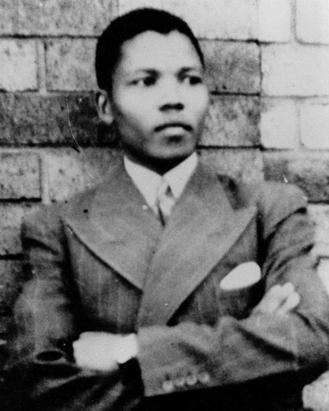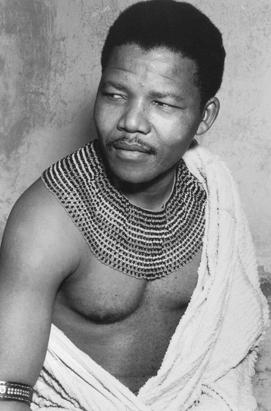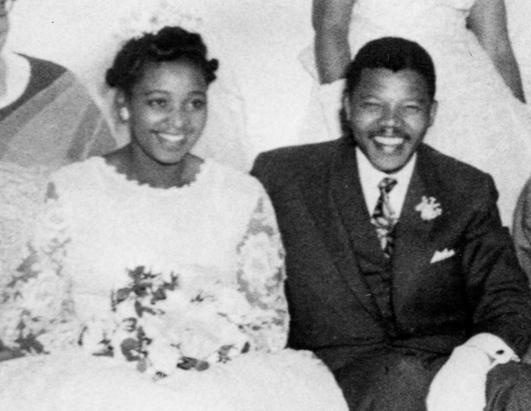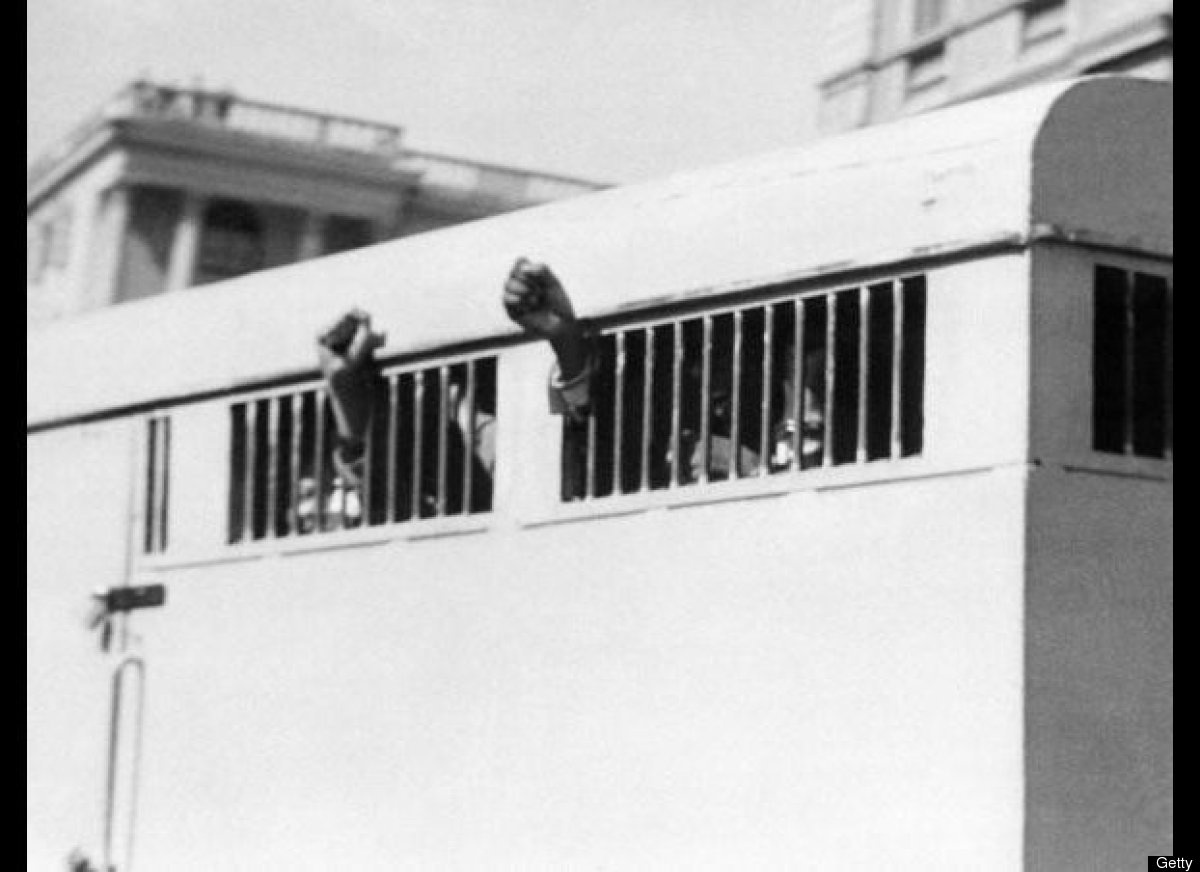 He was sentenced to life imprisonment in 1964
"In the winter of 1964, Nelson Mandela arrived on Robben Island where he would spend 18 of his 27 prison years. Confined to a small cell, the floor his bed, a bucket for a toilet, he was forced to do hard labor in a quarry. He was allowed one visitor a year for 30 minutes. He could write and receive one letter every six months. But Robben Island became the crucible which transformed him. Through his intelligence, charm and dignified defiance, Mandela eventually bent even the most brutal prison officials to his will, assumed leadership over his jailed comrades and became the master of his own prison. He emerged from it the mature leader who would fight and win the great political battles that would create a new democratic South Africa."
~ PBS.ORG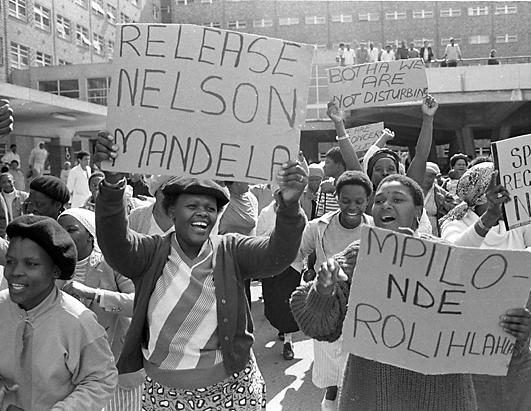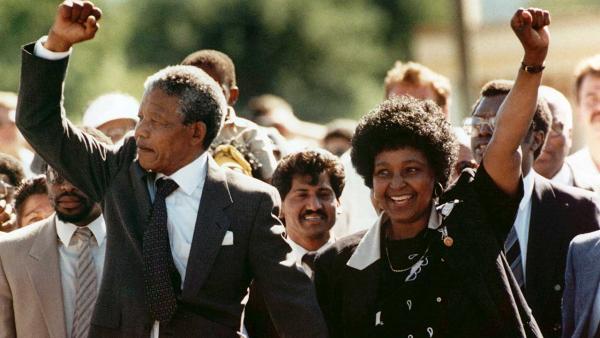 Nelson Mandela walks to freedom after 27 years in prison on Feb. 11, 1990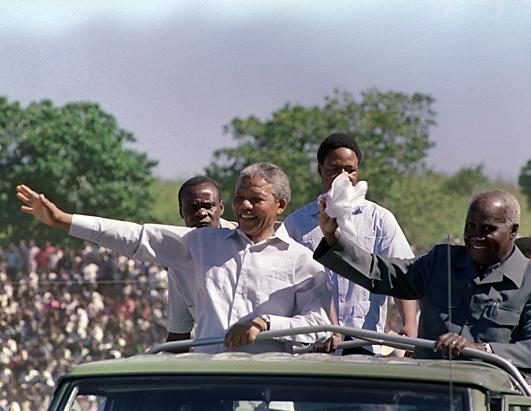 with Ted Kennedy
with Jacqueline Kennedy Onassis
with Jesse Jackson
with Whitney Houston
with Pope John Paul II
with The Dalai Lama
Nelson Mandela and former president of the USA, Bill Clinton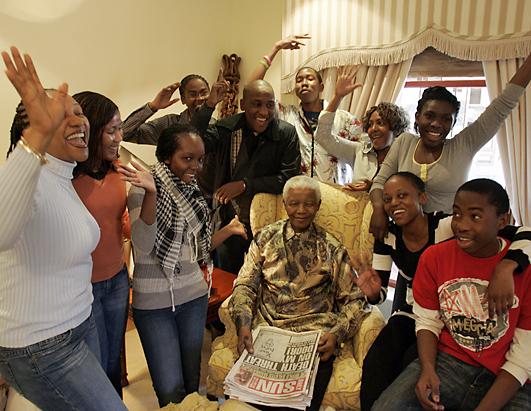 Nelson Mandela with his grandchildren
"An aide places a cap on the head of Nelson Mandela, at age 90, to protect him from the sun at a campaign rally on April, 2009." ~
News Channel wptv.com
A man who sought equality and whose struggle for freedom defined his life. He left behind an enormous example of life. We shouldn't see color or status of people. We are all human beings and for that we are equals. So I want to finish this tribute with a verse from the Bible that says:
"And the second is this: Love your neighbor as yourself. There is no commandment greater than these. "
~ Mark 12:31
Don't you think if we love each other this world would be a better place?
______________
Images source:
abc13
,
abcnews
,
news channel 5
,
quartz
,
Videos source: youtube::
CTNews01
,
The Unauthorized Story
,
BIO
,
Karolus Karoo Karoo